February 21st, 2018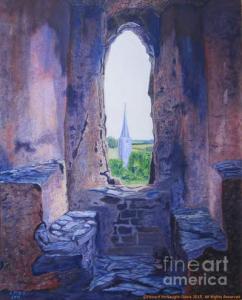 Painting Kidwelly Castle Window overlooking Kidwelly Village Church involved picking out a colour from the actual scene and using that colour or hue in the main. In this case it was purple and its various shades. And I prefer to make my own colours from the primaries. I made my own purples from blue and red pigments rather than using a commercially made purple straight from a tube. Doing it this way helps to tie in everything together.

I enjoy painting with a Trompe de L'oiel or trick-of-the-eye method of which this painting attempts to follow. The illusion in this respect is to make the painting look more 3D rather than two dimensional with the seating and the view beyond the window.

The illusion works well at the painting's original size of 20 inches by 16 inches. It would undoubtedly work better too at a much larger print size and which is possible as I photographed the completed picture at a high resolution.

The castle window overlooks Kidwelly village church. I felt inspired to paint the natural daylight effects bouncing off the medieval castle walls from this ancient 13th Century fortress window.

In particular I liked the balmy afternoon light outside the window and how the direct sunlight came in from the right and bounced off the left wall and reflected itself on the right inner wall. This in turn created interesting supporting shadows and which help to make the painting come alive.

Also, I liked the way in which the sunlight clipped and highlighted the edge of the window opening on the left hand side. It was quite intense. And it showed a few nooks and crannies that have obviously developed over the many centuries from Welsh wet and windy weather erosion.

Quite a few faces appeared in the painting but you have to look on the walls to find them. I didn't purposely put them in; they just appeared; as they often do within my paintings.

Outside the window was quite tricky to do as I needed to convey depth. I used a watery acrylic to achieve this and used complimentary colours to support the purple and to some extent the blue.

The castle is situated along the Gwendraeth river near to Carmarthen and on route to Llanelli. It is a Norman stronghold imposing much power in its era.

Copyright (c) Edward McNaught-Davis 2018. All Rights Reserved.