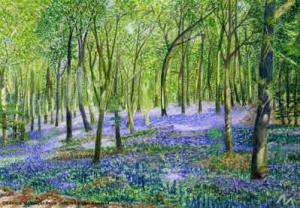 I like to think that I was inspired to paint my Bluebell Fairy painting and I guess I must be right for something very strange happened while painting it.

If you look into the centre of the picture you should be able to see an impression of a dancing fairy and who seems to be on tiptoes.

I did not paint her in consciously. She just appeared as if by magic. It is strange too that you can see her when viewing the Bluebell Fairy picture as a whole but zoom in using the Fine Art America zoom tool and it is difficult to see the makeup of her form, at all!

Many people ask me if the scene is a real place or a figment of my imagination. It is a real woodland and it is known as West Woods at Lockeridge and which is near to Marlborough in, Wiltshire, England. My painting shows a typical composition from these beautiful bluebell woodlands. It is so peaceful there. But alas, visiting is restricted to just two Sundays within a whole year!

My Bluebell Fairy watercolour landscape painting took many passionate hours to complete; partly on location and partly in my studio. I recall that the actual painting-time, back in 2002 when it was painted, took in the region 40 + hours; each layer had to be bone-dry before the next diluted layer could be applied.

This was necessary in order to achieve the various tints and especially on the distant green foliage. Green can be a tricky colour in which to achieve the right hue, tone and transparency, first time round. I rarely use pre-mixed greens in favour of mixing my own colour variations.

Typically, I will work out. in my head first, the type of blue to mix with the type of yellow and how much of each to blend before actually blending them on my palette. This helps to prevent mistakes and which could be hard to rectify as green watercolour pigment can be a difficult stain to remove, with a wetted brush, once the paint has been applied to the paper.

The blues of the bluebells are not really pure blue. They are more of a light mauve colour when seen from afar but this of course does depend greatly on the lighting and shade conditions.

Inspecting a bluebell close up will reveal its mix of hues; blue, white and crimson. English bluebells seem to have a slight waxy or oily sheen to them too. These are not to be confused with Scottish bluebells and which are a different shape. Scottish bluebells are also known as Harebells, I think.

Applying the blues to my Bluebell Fairy painting involved layering techniques to achieve the capturing of the afternoon daylight, strewn across the woodland floor. In addition, I used a technique that involved removing excess paint with a slightly wetted brush. This method helps to get the right tint of lightened colour used to resemble the afternoon daylight. Care had to be taken though as it could have been quite easily ruined by overworking the area; the paper ground might have broken up or I might have lifted off too much colour or some other unpredictable event might have occurred.

Within days of completing this painting I showed it to one of my clients and who promptly bought it then and there. It now hangs in his home in Edinburgh.

Fortunately, I retained the copyright and I have sold reproduction prints and greeting cards of it from a few internet portals and not just through Fine Art America. However, the FAA is the print-on-demand site I use most at the moment (2018) and this blog lives on it.

Copyright (C) Edward McNaught-Davis 2018. All Rights Reserved.