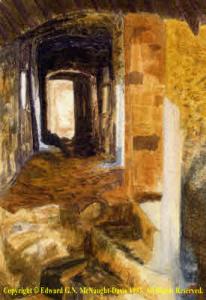 Painting Pembroke Castle Doorway was painted in watercolour and on cold pressed watercolour paper of substantial weight. It was painted in many layers of pigment in various tints of Yellow and Burnt Umber. Blue was used sparingly to make the occasional grey hues. The white light was achieved by not painting the particular areas and just allowing the whiteness of the paper to show through.

Choosing the right sort of support or ground (ie the paper) is crucial for this type of painting as I did not size the paper by soaking it in water first. A heavy weight paper allows various washes and layers to be made without the fear of the paper buckling. Although as a precaution I did tape it to a backing board at the time of painting it.

Using cold pressed paper allowed me to take off some areas of paint to achieve coloured highlights. Trying to do this on hot pressed paper invariably works to satisfaction.

I painted this picture of a Pembroke Castle Doorway about 20 years ago following a visit to the actual scene inside the castle keep. I had intended on painting it in situ but the only place I could comfortably stand was in the spiral stairwell and even then I had to bend a bit as my head kept hitting the stone steps above.

There were not that many tourists at the castle that day but there were enough to keep bothering me so in the end I made some quick sketches and took several photographs with an analogue camera as good quality digital cameras in those days were in their infancy and I did not have one.

To give you an idea of size and a sense of proportion, I could not stand tall in the corridor. I had to bend low in order to walk it. I doubt that two of me could walk side-by-side either. So how Norman soldiers managed it makes you think that they must have been quite small in stature. Wearing armour or indeed any form of leather jerkin or overcoat and perhaps carrying a shield, spear and a sword to get up onto the battlements above would definitely have been a great hindrance.

At the time of my visit and which was an early afternoon one Summer day, this particular corridor was quite spooky. I imagined many ghosts up there. I have tried to convey the spooky atmosphere within this painting and especially with the reflected lights.

Copyright (c) Edward McNaught-Davis 2018. All Rights Reserved.