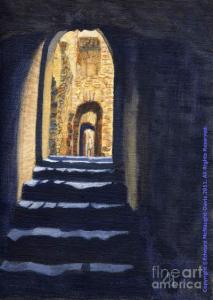 My painting of Carew Castle in Pembrokeshire Wales entitled Into the Light is not just intended as an illustration showing an interior view inside It doubles up to suggest a spiritual pathway through life in a metaphorical sense. It suggests a better way of life can be achieved by following the light. As then this will bring you out of your own darkness; whatever those troubles may equate to.

As you are the viewer of this painting, you are at the bottom of the stone steps. You can choose to stay where you are in the darkness or you can rise up into the light. You cannot rush though as you are still in the dark and rushing in this respect will teach you little. Also trying to get to the light quickly may cause you to trip on the uneven stone steps. You may even be engulfed in further dark shadows if you do not choose your way carefully.

Instead you are advised to choose your footing in a way that suits you but with your goal or target in mind. Once you find yourself in the light you have further choices to make regarding how you wish your life to go. This is illustrated within the confines of this painting by the choice of doorways, corridors and arches.

You could of course choose to turn right at the top of the steps. It may be like stepping or walking into the unknown but it is full of light and so you should fare well providing you opt to stay within the light that you have found and which suits you. Your light may be different from other people so it is best for you to accept what your light means to you rather than trying to compare with other peoples reasoning We all seem to have free will in this respect and we are all different.

In a historic context this painted view shows one of the ways up to the medieval banqueting hall. Walk up the steps and turn right and you will be in it.

Copyright (c) Edward McNaught-Davis 2018. All Rights Reserved.